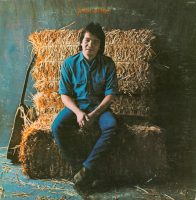 Als geen ander vertelt John Prine, in 1946 geboren in Maywood, Illinois, de verhalen van gewone mensen; van mensen die door het leven struikelen, van mensen die er het beste van proberen te maken. Liefdevolle beschrijvingen van de gewone, soms oudere man/vrouw in meertijds pijnlijke situaties typeren zijn platen, met als uitschieter zijn uitgebalanceerde en nagenoeg perfecte zelfgetitelde debuutplaat. John Prine is dan al, op 22-jarige leeftijd, waarlijk op de toppen van zijn kunnen. 
John Prine is eind jaren zestig een postbode in Chicago die in zijn vrije tijd liedjes schrijft, waarbij hij zich laat inspireren door de tragische ballades van The Carter Family. Hij treedt ook op in het Chicago-folkcircuit en raakt bevriend met singer-songwriter Steve Goodman die niemand minder dan Kris Kristofferson attendeert op het talent van John Prine. Samen met Paul Anka zoekt Kristofferson Prine op in de lege Earle Of Old Town-club. Kristofferson: 'Then he started singing, and by the end of the first line we knew we were hearing something else.' Op uitnodiging van het tweetal treedt John Prine een avond op in het fameuze New Yorkse Bitter End-café waar hij ter plekke wordt getekend door Jerry Wexler van Atlantic Records. Voor de opnamen van zijn debuut-lp reist Prine dan af naar Memphis, Tennessee, naar de American Recording Studios. 
Met producer Arif Mardin en een uitgebreide band met  daarin Elvis Presleys ritmesectie, gitarist Reggie Young, pedalsteelspeler Leo LeBlanc, pianist Bobby Wood en organist Bobby Emmons neemt Prine zijn majestueuze debuutplaat op. De doorgaans, het moet gezegd, gepolijste productie van Mardin, werkt wonderlijk goed bij de kale, gestripte liedjes van Prine, die uitblinken in poëtische zeggingskracht. Illegal Smile bijvoorbeeld handelt over de geneugten van marihuana: 
'Ahhh but fortunately
I have the key
To escape reality'
Spanish Pipedream verhaalt van een sexy danseres en een naïve soldaat; het is die goedkope romantiek die telkenmale terugkeert in Prine's geweldige liedjes, waarin rokerige biljartzalen, ritjes in gebutste tweedehandsjes en lege goederenwagons de scene bepalen en spijtoptanten over verkeerd genomen beslissingen, in drank en drugs vergetelheid zoekende stakkers en melancholische losers op hun manier schitteren. Your Flag Decal Won't Get You Into Heaven Anymore is een politiek anti-Nixon-lied en in het sepia-getinte Paradise bezoekt Prine Kentucky, de geboortestreek van zijn vader. Fraai, maar klassiek is de ultieme kater-van-Vietnam-song Sam Stone, waarin een verslaafde Namvet terugkeert naar zijn gezin. 
'There's a hole in daddy's arm
Where all the money goes
And Jesus Christ died for nothing
I suppose'
Nog beter wordt het als de twintiger Prine de bittere eenzaamheid van het ouder worden bezingt in de sublieme vertelling Hello In There – overigens gepopulariseerd door Bette Midler.
'We had an apartment in the city
And me and Loretta liked living there
It'd been years since the kids had grown
A life of their own
And left us alone
John and Linda live in Omaha
And Joe is somewhere on the road
We lost Davy in the Korean War
I still don't know what for
Don't matter anymore
Ya know, that old trees just grow stronger
And old rivers grow wilder everyday
Old people just grow lonesome
Waiting for someone to say
Hello in there
Hello'
Subtiele elektrische gitaar, pedalsteel, piano en orgel zijn de muzikale smaakmakers op John Prine's zelfgetitelde debuut; prominent aanwezig in de heerlijk slome elektrische countryblues Pretty Good en in de zwevende countryrock van Quiet Man. Onovertroffen is echter Angel From Montgomery – alleen de titel al -, dat met zijn gitaar-twang en rollende Hammond niet alleen muzikaal perfect is, maar ook tekstueel americana-poëtica pur sang is. Niet voor niets coverden Carly Simon, John Denver en Bonnie Raitt al in de begin jaren zeventig dit singer-songwriterpareltje.
'When I was a young girl
Well I had me a cowboy
He weren't much to look at
Just a free rambling man
But that was a long time
And no matter how I try
The years just flow by
Like a broken down dam
Make me an angel that flies from Montgomery
Make me a poster of an old rodeo
Just give me one thing that I can hold on to
To believe in this living is just a hard way to go'
Werkelijk imponerend zijn Prine's geniale, met dichterlijke gratie beschreven en met mededogen gezongen menselijke portretten. Zij tezamen maken van John Prine, uitgebracht in 1971, een uitzonderlijk hoogstaand singer-songwritersalbum; een blauwdruk en lichtend voorbeeld voor generaties van singer-songwriters nadien. John Prine is op zijn debuutplaat al die bijzondere en exceptionele singer-songwriter die hij later blijkt te zijn – en dat zal hij daadwerkelijk decennialang blijven, totdat hij letterlijk leeg en op is.    
John Prine. Atlantic, 1971. Illegal Smile | Spanish Pipedream | Hello In There | Sam Stone | Paradise | Pretty Good | Your Flag Decal Won't Get You To Heaven Anymore | Far From Me | Angel From Montgomery | Quiet Man | Donald And Lydia | Six O'Clock News | Flashback Blues
Dit artikel is eerder gepubliceerd in Americana outlaws 50 singer-songwriters uit de seventies, Uitgeverij kleine Uil, 2017.