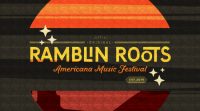 Het is echt waar. Er staat binnenkort een echt americana-festival op stapel: op zaterdag 23 oktober wordt in het Utrechtse TivoliVredenburg Ramblin' Roots georganiseerd. Mooi! We berichtten er hier al eerder over. Nog mooier is dat we voor dit festival 2 x 2 vrijkaarten mogen weggeven. Om daarvoor in aanmerking te komen willen we graag weten wie als eerste optrad in de grote zaal tijdens de allereerste editie van Ramblin' Roots (in 2014). Je kunt je antwoord mailen naar ons email-adres. De winnaars krijgen op 17 oktober bericht van ons.
Er zijn nog een paar wijzigingen in de line-up doorgevoerd sinds ons eerste bericht. The Ghost Of Paul Revere en Spencer Albee komen helaas niet. Nieuwe namen zijn The Calicos (B), Jo Harman (UK), Ian Siegal presents B.L.U.E.S (met o.a. Darryl en Dusty Ciggaar) en Our Man In The Field (UK). Voor de volledigheid: ook Rhiannon Giddens en Francesco Turrisi, Diana Jones, Vanessa Peters & the Eletrofonics, Nina Lynn, Austin Lucas, Jim Keller, Arlan Feiles, the Dawn Brothers, Samantha Martin, Leif de Leeuw Band, Gwenifer Raymond en Joana Serrat treden op.
Kaarten (€42,50) zijn verkrijgbaar via de website van TivoliVredenburg.