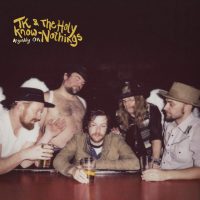 De TK in TK & The Holy Know-Nothings is Taylor Kingman. Kingman komt uit Portland, Oregon, staat bekend als een stevige drinker, is niet vies van drugs, maar schrijft met het werk van grote Texanen als Terry Allen en Doug Sahm in het achterhoofd ook voortreffelijke songs. Zelf noemt hij de muziek die hij maakt met het rammelende zootje begeleiders – treffend genaamd The Holy Know-Nothings – 'psychedelic doom boogie'. En om dat te benadrukken hebben Kingman en zijn drinkvrienden hun debuutplaat live – en zonder overdubs – opgenomen in The OK Theatre, een historisch theater uit 1918 in Enterprise, Oregon.
De titel van wat het vijftal ervan gebrouwen heeft, is Arguably OK; een understatement van de eerste orde en vast een grap, want deze plaat is meer dan oké: puur, rauw en fantastisch. Kingman is een ruwe diamant, die zingt als Deer Ticks John Joseph McCauley III en in zijn teksten dezelfde ruige beelden gebruikt als Richmond Fontaine's Willy Vlautin. Zo is de openingszin van The Devil's Point: 'Well, I'm drunk and still drinking cheap beer and cheap bourbon, watching wild woman working the pole'. En van Hard Times: 'Paulie always had it coming / With those swollen dead moon eyes'. En de begeleiding daarbij is rammelend, rommelend en loose: The Holy Know-Nothings is met gitaar, elektrische piano, pedalsteel, bas en drums een uitgelezen barband, zoiets als Jerry Jeff Walkers' Lost Gonzo Band. Arguably OK is dan ook doortrokken van doorleefde songs, enerzijds rauw, maar ook gevoelig zoals in het prachtige Desert Rose. De hoes van Arguably OK is een polaroid, geschoten van een drinkgelag in het stamcafé, waarop singer-songwriter Barna Howard (zijn Quite A Feelin' uit 2015 is schitterend) de bandnaam gekriebeld heeft. Voeg daar het mosterdgele vinyl aan toe en je haalt met TK & The Holy Know-Nothings' Arguably OK een superfijn alt.countryalbum in huis.
Arguably OK. Mama Bird Recording Co., 2019. Alone | Emmanuel | Good Stuff | The Devil's Point | Desert Rose | Tunnel of A Dream | Dejavudu | Hard Times | Lord, Why'd Ya Make Me?