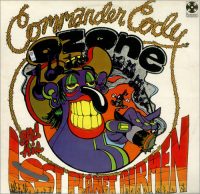 Dit is pure hillbilly-muziek: twang, pedalsteel, truckersongs en western swing; good time-liedjes uit cowboy-country. Alleen: Commander Cody and His Lost Planet Airmen komen uit het kille Amerikaanse noorden, uit Ann Arbor, Michigan – eigenlijk meer een bakermat voor luide rock (Iggy and the Stooges, The Rationals, Brownsville Station). Vanaf 1967 blazen Commander Cody and His Lost Planet Airmen aldaar ook hun partijtje mee, maar het wordt pas echt wat als de band verhuist naar San Francisco, Californië. 
Commander Cody – echte naam George Frayne – heeft een uitgebreide band om zich heen verzameld, met daarin zanger Billy C. Farlow, op pedalsteel The West Virginia Creeper, op gitaar en trombone Bill Kirchen en nog zo wat jongens op gitaar, bas en drums. De Commander zelf honkytonkt op de piano. Met overduidelijk plezier, een goed glas wijn en een fikse joint storten de countryhippies zich op hun debuutplaat Lost in the Ozone op ouderwetse jaren-50-country, getuige covers van Claude Grays Family Bible, Ronnie Selfs Home in My Hand, Johnny Bonds Hot Rod Lincoln en Eddie Cochrans 20 Flight Rock. Commander Cody zelf laat zich compositorisch ook niet onbetuigd in country-and-roll-songs als Lost in the Ozone, Back To Tennessee, Wine Do Yer Stuff en de tearjerker Seeds and Stems (Again). Ter verhoging van de algehele feestvreugde zijn de laatste drie tracks live opgenomen. Ja, met Commander Cody and His Lost Planet Airmen kun je wel een feestje bouwen – en met die psychedelische hippie-hoes onder je arm kun je je overal vertonen.
Commander Cody and His Lost Planet Airmen timmeren na het debuut in 1971 nog fijn aan de weg met albums als Hot Licks, Cold Steel & Truckers Favorites (1972), Country Casanova (1973) en het sfeervolle live-album Deep in the Heart of Texas (1974). Daarna kalft het wel af.
Lost in the Ozone. Paramount Records, 1971. Back To Tennessee | Wine Do Yer Stuff | Seeds and Stems (Again) | Daddy's Gonna Treat You Right | Family Bible | Lost in the Ozone | Midnight Shift | Hot Rod Lincoln | What's the Matter Now? | 20 Flight Rock | Beat Me Daddy Eight To the Bar