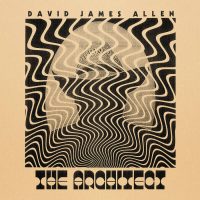 Kijk nu alleen al eens naar die hoes van The Architect (Garment District Records), die is toch prachtig? Alleen daarom al verdient David James Allen een ster. Nee hoor, die vier sterren komen de Canadees voor dit album volledig toe op grond van de songs die hij ten gehore brengt. Die zijn stuk voor stuk (10) de moeite waard. Laten we het rootsy pop noemen, maar dan wel behoorlijk rootsy. Allen had in zijn twintiger jaren behoorlijk wat met zichzelf te stellen, in psychisch opzicht. Die tijd ligt nu achter hem, hij is gelukkig, maar hij weet die ervaringen uit het verleden wel goed onder woorden te brengen. In het werkelijk schitterende titelnummer verwoordt hoe hij worstelde met het imposter syndroom (de angst om door de mand te vallen). Goodbye Darkness, my old friend / We'll meet again on this dusty road of dreams, zo begint hij in Unsatified. En zo begroet hij ook De Stilte, maar wat zijn zogenaamde oude vrienden niet weten is dat hij nu vrij is. Niet langer meer gebonden. Mooi, hoor! Met het gaat op dit derde album van Allen (uitgebracht in november 2021) niet alleen maar over zichzelf.  Het met tempowisselingen bedeelde White Water Jack is maatschappijkritisch en in Nobody bekommert hij zich om de verwaarlozing van de natuur. Wat echter alle songs verbindt zijn die mooie teksten en bijzonder smaakvolle muzikale inkleuring, met een hoofdrol voor de pedal steel van Stew Crookes en strijkpartijen van Adrian Irving en Jill Sauerteig. Echt een ontdekking!
The Architect is verkrijgbaar via de bandcampsite van David James Allen.
Bekijk vooral ook die grappige video van Please Let Me In hieronder.