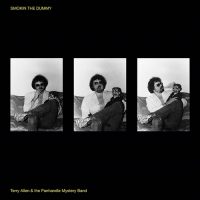 In 1980 kocht ik Smokin The Dummy (Paradise Of Bachelors/Konkurrent) van Terry Allen & The Panhandle Mystery Band. Een elpee in een dikke kartonnen hoes op het nietige Fate Records. Binnenin een tekstvel in felgeel. Deze rerelease (zowel op cd als lp) is zelfs nog iets fraaier, want in een klaphoes. Dat was destijds niet zo. Zoals altijd bij Paradise Of Bachelors is de verpakking tot in de puntjes verzorgd. De hoes bevat foto's die niet op de elpee stonden. Van Donny, Lloyd en Kenny Maines, Jesse Taylor en Richard Bowden bijvoorbeeld, allemaal met een masker. Een bijzondere plaat was dit voor mij persoonlijk al op het moment van verschijnen. Want die mysterieuze band uit de Panhandle van Texas bestond voor het grootste deel uit musici uit de band van Joe Ely. En dat was toen sinds twee jaar mijn held. Nog steeds trouwens. 
Na Smokin The Dummy kocht ik van Allen pas later de een jaar eerder verschenen dubbelaar Lubbock On Everything. In die tijd was je afhankelijk van import en daar moest je soms wat moeite voor doen. Over dat album en het nog eerder verschenen Juarez heb ik eerder al uitvoerig geschreven. In die recensies stond al wat een bijzonder artiest deze Allen is. Dat hoeft dus hier niet opnieuw.
Deze plaat is nog ruiger en vooral luidruchtiger dan die dubbelaar. Beginnend met een wilde rit in een truck richting Bakersfield op The Heart Of California (For Lowell George). Met Jesse Taylor en Lloyd Maines weet je dat het gaspedaal tot de bodem wordt ingetrapt, want elektrische gitaren en steelgitaar scheuren over het asfalt. Cocaine Cowboy eindigt met gehinnik: 'Cocaine … Yeehaw … Cocaine / Cocaine you're just the same as my horse to me'. Whatever Happened To Jesus (And Maybeline)? leent een stukje van Chuck Berry. Op Helena Montana loopt een jonge meid af op een persoon die zich stomdronken en struikelend van een bar naar een auto begeeft. Ze vraagt of hij zin heeft in een verzetje, hij haalt een biljet uit zijn broekzak en antwoordt: 'I don't need no fun, little girl / But I sure could use some pills'. 
Op Texas Tears betrapt Allen zijn lief in een taveerne aan de zijde van een andere man 'smiling smiles I never seen'. Hij loopt naar binnen net op het moment dat ze de man een kus op zijn lippen drukt. Ze probeert zich er nog uit te praten, maar tevergeefs. 'Damn you … you lyin' Texas woman / You got the lips of an angel / But the devil, he's suckin' your tongue'. Cajun Roll gaat over Louisiana en religie en zonde. Met als altijd uitzonderlijk vioolspel van Richard Bowden. Een zaterdagavond op de boulevard is het decor van Feelin Easy. Met mandoline van diezelfde Bowden. 
The Night Cafe schreef Allen toen hij en zijn vrouw dikwijls tussen Texas en Californië reisden. Ze reden altijd 's nachts en waren blij als ze onderweg ergens konden stoppen. Een plek met een jukebox en hete koffie. Bevolkt door truckers die allemaal onmiddellijk een hamburger wilden. Het nummer gaat over in Roll Truck Roll waarop Joe Ely een fikse partij op de mondharmonica blaast. Fraai, maar wat het nummer echt naar een hoger plan tilt is e angstaanjagende bijdrage van Lloyd Maines. Op de steelgitaar blaast hij voorbij als een truck met oplegger op 18 wielen. In 2008 fietste ik van Amarillo naar Lubbock over Interstate 27 met de hele dag dit liedje in mijn hoofd. Af en toe kwam er weer zo'n gevaarte voorbij blazen. Hey, Roll Truck Roll schreeuwde ik ze na.
Red Bird schreef Allen al in 1964, nadat hij van Lubbock naar Los Angeles was verhuisd. Het liedje speelt zich af in New Orleans, ook al was hij daar toen nog nooit geweest. Het album besluit met The Lubbock Tornado (I Don't Know). Over een tornado die de stad aandeed in 1970. Het gaat trouwens ook over ufo's, zoals dat nu eenmaal gaat in dit gebied. Overigens, tijdens die fietstocht van San Francisco naar Houston regende het uitgerekend in dit doorgaans kurkdroge gebied. Dus daar in het van heel veel horizon voorziene vlakke West Texas keek ik veelvuldig naar boven. Er zou toch niet een tornado op komst zijn?