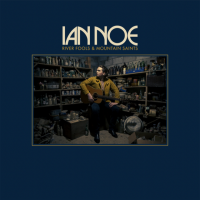 Je gelooft Ian Noe direct als hij in het openingslied van River Fools & Mountain Saints aftrapt met: 'Stranded in a madhouse, baby / Down in the old Pine Grove / Been up for days / In a drunkards haze'. Uit Pine Grove (Mad House) blijkt wel dat de 32-jarige singer-songwriter uit Beattyville, Kentucky niet in zijn eentje gestrand is, maar zich weet vergezeld van steel, elektrische gitaar en orgel. Noe's tenor overigens, brengt op deze bijzonder rake opener een alhier bejubelde singer-songwriter als Chris Brecht met een schok van herkenning in herinnering. Take that as compliment.
In ruime zin komt Ian Noe dus uit de Appalachen, wat zo'n beetje betekent dat als je wat wilt bereiken, je naar Nashville, Tennessee moet verkassen. Noe's eerste plaat Between the Country (2019) werd aldaar geproduceerd door de fameuze Dave Cobb, voor River Fools & Mountain Saints kon Noe rekenen op gitarist en bassist Jack Lawrence (Blanche, The Raconteurs) en nog veel meer vrienden – tezamen dus gestrand in de Pine Grove. 
Wat Ian Noe voorts bijzonder maakt is dat hij in de laatste levensjaren van John Prine hem on tour begeleidde. In meer dan schitterende akoestische liedjes als River Fool, Lonesome As It Gets, Ballad of A Retired Man en One More Night horen we dat terug: Noe is Prine's ware troonopvolger. Maar Noe buit ook zijn band ten volle uit – fiddle, staande bas, drums, een enkele French Horn-scheut en Steve Daly's kreunende steel: Mountain Saint, POW Blues en de countryblues Burning Down the Prairie, opgejaagd door gierend gitaarwerk zijn royaal instrumentaal ingekleurd. 
Mooie hoes, retro-sfeer, inlegvel: prachtig album, nieuwe held. Ian Noe kan met River Fools & Mountain Saints de concurrentie aan met iedereen; in ons genre is dit een van de beste platen van 2022.
River Fools & Mountain Saints. Thirty Tigers, 2022. Pine Grove (Madhouse) | River Fool | Lonesome As It Gets | Strip Job Blues 1984 | Tom Barrett | Ballad of A Retired Man | Mountain Saint | One More Night | POW Blues | Burning Down the Prairie | Appalachia Haze | Road May Flood / It's A Heartache