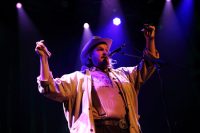 Vijf sterren maar liefst gaven we aan Peculiar, Missouri, het recente album van Willi Carlisle. Genoeg redenen om bij zijn eerste optreden in Nederland, in De Helling in Utrecht, te zijn. Kon hij al die sterren ook live waar maken?
Voordat we die vraag zouden kunnen beantwoorden kregen we eerst een kort optreden (6 liedjes) van de Utrechtse singer-songwriter Bas Beenackers (ook My Blue Van) voorgeschoteld. Een fijn aperitief. De in een groen-witte overall gestoken Beenackers viel vooral op door zijn mooie stem met licht schurend randje en de repetitieve songs. 
Dan het hoofdgerecht: de uit Arkansas afkomstige Carlisle opende zijn optreden a capella, zichzelf alleen begeleidend met twee koeienbotjes die hij als een soort castagnetten liet klepperen en een mondharmonioca (What The Rocks Don't Know). Je moet maar durven. Maar dat is het ook net met Carlisle. Hij is geen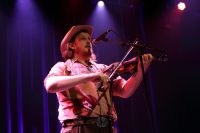 gitaarwizzard, geen uitzonderlijk goede zanger en hij zegt zelf slechts een matige fiddler te zijn. Maar Carlisle, zo blijkt deze avond in Utrecht, is een geweldige podiumpersoonlijkheid die direct contact met zijn publiek zoekt. Al in het tweede nummer word je op charmante manier uitgenodigd om mee te zingen in het refrein van Your Heart's a Big Tent. Hij vertelt leuke verhalen tussendoor, spot met zijn onzekerheid en andere eigenschappen. En kan putten uit een grote hoeveelheid goede songs. Zelfgeschreven nummers, traditionals zoals de fiddletune Possum On A Rail en covers, zoals  Goodnight Loving Trail. Hilarisch is de ook gecoverde cowboy-song High Tone Dance, waarin Carlisle zich in rap tempo verontschuldigt voor de manier waarop in de song over vrouwen wordt gesproken. Na afloop van de song vraagt hij of iedereen de tekst begrepen heeft. "Ja, hoor" roept iemand in de zaal. "Mooi", antwoordt Carlisle "want ik hebt woorden gebruikt waarvan ik zelf de betekenis niet eens weet". Natuurlijk komt een deel van de songs van Peculiar, Missouri voorbij, maar ook songs van eerder werk. Cheap Cocaine van een EP uit 2016 en Prospect van To Tell You The Truth uit 2018. Van die laatste plaat komt ook het prachtige Angel waarmee Carlisle de avond afsluit. Voor degen die hem deze dagen gemist heeft: niet getreurd. In het najaar staat Willi Carlisle op TakeRoot. Niet te missen!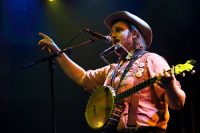 Gezien in De Helling, Utrecht, op vrijdag 2 juni 2023
Foto's: Peter Hageman