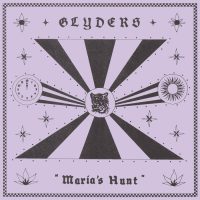 Alternatieve country versus gecountrificeerde rock, is er anno 2023 nog een werkelijk verschil? Dat vraag ik me af bij beluistering van Maria's Hunt (Country Thyme/Drag City) van Glyders. De band uit Chicago laat op haar volwaardige debuut – eerder werden alleen EP's en singles uitgebracht – een mengeling horen van seventiesrock en countryrock, met een scheut psychedelica. En nee, dat klinkt niet als de alternatieve country uit de jaren 90, maar het heeft zeker zijn charme en het zou me verbazen als de gemiddelde lezer van deze site het niet zou kunnen waarderen. Glyder bestaat
uit het paar Josh Condon (allerlei instrumenten en zang) en Eliza Weber (bas en zang). Daarnaast hoor je (vaak) Nick Usalis op pedal steel. Het gebodene doet denken aan het hier besproken Tobacco City. Niet heel gek want bij dat ook uit Chicago afkomstige gezelschap zijn Condon, Weber en Usalis eveneens betrokken. Zelf noemen ze het maximal minimal rock, waarmee ze bedoelen dat ze zoveel mogelijk proberen te brengen met de minimale middelen die ze hebben. Het boogiet en het twangt, maar het doet ook licht aan door de onnadrukkelijke zang. Wrong Sometimes Right (met snijdende gitaarsolo), Shoreline en Can't Beat The Heat zijn de meest countrygetinte songs. 
Maria's Hunt werd in januari van dit jaar uitgebracht en is verkrijgbaar als download, cassette of LP.