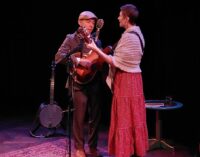 Er zijn veel duo's, waarvan er ook genoeg zijn waar de band verder gaat dan hun liefde voor muziek alleen. Pharis & Jason Romero, bijvoorbeeld. Of Viv & Riley. Of David Rawlings en Gillian Welch, hoewel die niet gehuwd zijn. En we hebben inmiddels ook alweer even het echtpaar Crystal & Pete Damore, ofwel: Ordinary Elephant. Crystal Hariu en Pete Damore kwamen elkaar zo'n 14 jaar geleden tegen bij een open mic in Texas; inmiddels zijn ze alweer 11 jaar man & vrouw en als zij maanden achterelkaar – samen met 4 honden – in hun camper op pad zijn dan zit je dan wel op elkaars lip, maar ondanks dat is het nog steeds geen wonder dat zij nog immer samen zijn. Ze matchen nog steeds, de gebruikelijke hobbels nemend. Muzikaal kleuren ze eveneens fraai bij elkaar. En in klein Walhalla bleek dat de twee inderdaad goed bij elkaar passen, ook vocaal.
Daar op Zuid waren ze aan hun laatste optreden in Nederland toe, met ook Ramblin' Roots als tussenstop. En alle reacties lezend, dan kunnen slechts enthousiaste en lovende woorden opgetekend worden. En dat bevestigden deze echtelieden ook in Rotterdam, maar wel met een (kleine) kanttekening: op den duur werd het wel ietwat vlak; iets meer afwisseling – hier en daar iets van uptempo – zou niet misstaan. Neemt niet weg dat het kwalitatief bezien zeker voldeed; het had niveau.
Voornamelijk puttend uit de albums Before I Go (2017) en Honest (2019) gaf Ordinary Elephant er namelijk ook live blijk van uit het juiste hout gesneden te zijn, instrumentaal en vocaal. Met Crystal vocaal bezien in the lead (met een stem die ergens aan Eliza Gilkyson doet denken) en met Pete naast haar bekwaam dienend op snaren (o.a. banjo) en backing vocals. Mooie uitvoeringen van Rust Right Through; Scars We Keep; Harriet (heel fraai!); Jenny & James en Joy Has Not Forgotten Me. In set één droeg Crystal dan nog twee gedichten voor, daarmee aantonend dat zij met woorden kan spelen, zowel in songs als in poems. Het waren dan ook geen verspilde uren, daar op Zuid.