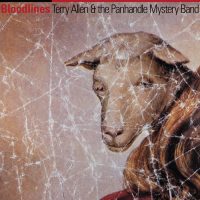 De ondoordringbare noten uit het klavier van Terry Allen brengen je bij een kerkdienst. Maar niet heus, want met religie heeft de Texaan niet zoveel op. Zal wel te maken hebben met de lifter die hij oppikte op het tweede nummer van Bloodlines (Paradise Of Bachelors/Konkurrent). Op Gimme A Ride To Heaven Boy is het Jezus die zijn auto instapt. 'He said 'Thanks a lot for the lift / I forgive you of your sins / Yeah I just come from Jerusalem / Where things are going bad / Ahhh gimme a ride to heaven boy / I need to talk to my dad'.' De twee hebben een goede conversatie, maar de sfeer verandert al snel. 'Then right in the middle of that perfect smile / From his robes he pulled a gun … 'The lord moves in mysterious ways / And tonight my son… he's gonna use your car'.' Waarom ik het album uit 1983 destijds niet gekocht heb? Ik weet het echt niet meer. Misschien omdat ik nog niet klaar was voor het bijtende sarcasme? Zou zomaar kunnen. Oh Hally Lou, ik heb mezelf wel tekort gedaan. Want wat een formidabel werkstuk is het.
Terry Allen & The Panhandle Mystery Band, lees meer over wie er achter dat mysterie schuilen in de recensie van het tegelijk met dit album opnieuw uitgebrachte Smokin' The Dummy, maakten kunst met een grote K en deden dat in alle bescheidenheid. Wars van enige vorm van pretentie. Met een heilig geloof in eigen kunnen, dat wel, maar zonder zelfoverschatting of sterallures.
Cantina Carlotta is een Mexicaans uitstapje over de grens bij El Paso. Met trompetten! Een Iers fluitje geeft kleur aan Ourland, waarop Allen zijn kijk geeft op het door religieuze twisten verscheurde Noord-Ierland van die tijd. Oh Hally Lou schreef Allen voor een toneelstuk van zijn vrouw Jo Harvey Allen. Het begint met slagwerk als indiaanse muziek en het eindigt met kerkorgel. Oh What A Dangerous Life heeft een Caribisch sfeertje. Met een saxofoon van Don Caldwell en een koortje van vrouwen die klinken als meisjes uit de film Grease. 
De muziek van Allen overstijgt grenzen. De grenzen van genres. De grenzen van de Verenigde Staten. De grenzen van het betamelijke, althans in de ogen van conservatieve landgenoten. Religie steekt steeds weer de kop op in zijn teksten. Het zit in de Bloodlines. En het gaat altijd door. Dat bewustzijn brengt Allen je bij. En hij schopt tegen alles aan. Hij heeft het ook gemunt op zaken die op het eerste gezicht zo aantrekkelijk lijken. Maar There Oughta Be A Law Against Sunny Southern California leert je wel anders.
Gimme A Ride To Heaven Boy en Cantina Carlotta stonden ook al op Juarez, maar dat is geen enkel bezwaar. Het zijn nummers die je elke dag wel zou willen beluisteren.
Het lammetje op de cover is typisch een vondst van de beeldend kunstenaar die Allen ook is. Want onschuld en christendom, past dat bij elkaar? Daar kun je ernstig aan beginnen te twijfelen na de boodschap die de Texaan hier over negen nummers uitsmeert. Voor wie dat al niet deed.